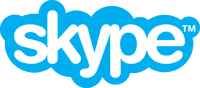 This is some important information for some of you die-hard Skype users. Yes, Skype is a great tool for video conferencing, phone calls, etc., but experienced (or amateur) hacker. With the current version on Skype (3.0.1), there is a strong cross-site scripting (XSS) vulnerability. So beware when accepting random "friends" asking you funny questions; as one can view your address, Job, etc. View the video below for more information.
Ad blocker interference detected!
Wikia is a free-to-use site that makes money from advertising. We have a modified experience for viewers using ad blockers

Wikia is not accessible if you've made further modifications. Remove the custom ad blocker rule(s) and the page will load as expected.